St Thomas Singers
conductor Donald Halliday
St Giles at Six
St Giles Cathedral, Edinburgh
Sunday 14 October 2001
6.00 pm
PROGRAMME
Pedro Guerrero (c. 1520 – c. 1560)
O beata Maria

Sung in Latin

O blessed Mary, only hope for sinners, through you we hope for forgiveness for our sins. In you, who art most blessed, we look forward to our rewards.

Johan–Magnus Sjöberg [1983]
Ave maris stella

Sung in Latin

Hail, star of the sea, kind mother of God and Virgin, fruitful gate to heaven.

Mendelssohn (1809 – 1847)
Richte mich, Gott

Sung in German

Judge me, O God, and plead my cause against unholy people.
O Lord, save me from false and wicked people.
For Thou art my God, in whom I take my strength.
Why do you reject me? Lord, why let me go sadly in the way of mine enemies?
Send out thy light and truth, let them lead me to your holy mountain and dwelling place.
Then I will go to the altar of God who is my joy and grace.
I will praise Thee with harp and lyre, O my God.
Why are you cast down, O my soul, why are you restless within me. Take hope in God.
I shall praise my Lord and God again. Again I shall give him thanks now and for evermore.

Pierre Villette (b. 1926)
Three motets
sung in Latin

O quam amabilis est [Op. 71, 1992]

O how worthy of love you are, good Jesus,
How delightful you are, sweet Jesus,
O joy of the heart, comfort of the mind, dear Jesus,
How wonderful you are, good Jesus.
You are to be honoured and revered, and always to be praised, kind Jesus.

Jesu, dulcis memoria [Op. 78, 1994]

Jesus, sweet memory, source of true joy to the heart.
His sweetness surpasses honey and all things.
Nothing sweeter is sung, nothing more pleasant is heard, nothing sweeter is thought than you, Jesus, Son of God.
Jesus, may you be our joy and reward, may our glory be in you for evermore. Amen.

Panis angelicus [Op. 80, 1995]

Angelic bread becomes bread of men, heavenly bread gives purpose to all things.
O wonderful thing, the poor and humble servant eats his Lord.
Threefold and one Deity, we ask you to visit us as we worship Thee.
Lead us along your path to our goal, to the light in which you live. Amen.

Victoria (c. 1548 – 1611)
Magnificat primi toni

Sung in Latin

My soul doth magnify the Lord and my spirit hath rejoiced in God my Saviour
For he hath regarded the lowliness of his hand–maiden
For behold from henceforth all generations shall call me blessed
For he that is mighty hath magnified me, and holy is his Name
And his mercy is on them that fear him, throughout all generations.
He hath showed strength with his arm, he hath scattered the proud in the imagination of their hearts.
He hath put down the mighty from their seat, and hath exalted the humble and meek.
He hath filled the hungry with good things, and the rich he hath sent empty away.
He remembering his mercy hath holpen his servant Israel, as he promised to our forefathers, Abraham and his seed for ever.
Glory be to the Father and to the Son, and to the Holy Ghost
As it was in the beginning is now and every shall be, world without end.
Amen.

Michael Tippett (1905 – 1998)
Spirituals from A Child of our Time

Sung in English

Steal Away

Steal away to Jesus, steal away home,
I ain't got long to stay here.
My Lord he calls me, he calls me by the thunder,
The trumpet sounds withina my soul,
I ain't got long to stay here.
Green trees abending, poor sinner stands atrembling,
The trumpet sounds within-a my soul,
I ain't got long to stay here.

Go down, Moses

Go down, Moses, way down in Egypt land;
Tell old Pharoah to let my people go.
When Israel was in Egypt land
Oppressed so hard they could not stand
"Thus spake the Lord" bold Moses said
"Let my people go".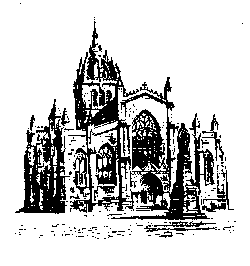 St Giles Cathedral, Edinburgh