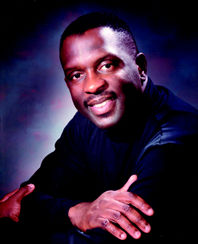 MOSES GEORGE HOGAN, born March 13, 1957, died 11 February 2003, was a pianist, conductor and arranger of international repute. A graduate of the New Orleans Center for Creative Arts and Oberlin Conservatory of Music in Ohio, he also studied at New York's Juilliard School of Music and Louisiana State University. As a pianist Mr Hogan took first place in the prestigious 28th annual Kosciuszko Foundation Chopin Competition in New York.

Moses Hogan's recordings include arrangements of spirituals for Barbara Hendricks, sung by the Moses Hogan Singers entitled Give Me Jesus; An American Heritage of Spirituals, sung by the Mormon Tabernacle Choir; two recordings of spirituals with countertenor Derek Lee Ragin; and This Little Light of Mine, featuring Hogan's most recent compositions.

Moses Hogan served as editor of the Oxford Book of Spirituals, published by Oxford University Press in 2003. Hogan's contemporary settings of spirituals, original compositions and other works have been revered by audiences and praised by critics including Gramophone magazine. With over 70 published works, Hogan's arrangements have become staples in the repertoires of many choirs worldwide. Mr. Hogan was in great demand internationally as an arranger, conductor and clinician.
The Singers
conducted by Donald Halliday

A special tribute to
Moses Hogan

All Saints Church
Quayside, Newcastle

Saturday 17 May 2003
7.30 pm

Programme
Adrian Batten (1591-1637)
O sing joyfully
O sing joyfully unto God our strength
Make a cheerful noise unto the God of Jacob
Take the song, bring hither the tabret,
The merry harp with the lute.
Blow up the trumpet in the new moon,
Ev'n in the time appointed, and upon our solemn feast day.
For this was made a statute for Israel
And a law of the God of Jacob.

Orlando Gibbons (1583 – 1625)
Almighty and everlasting God
Almighty and everlasting God, mercifully look upon our infirmities, and in all our dangers and necessities, stretch forth thy right hand to help and defend us: through Christ our Lord, Amen

Hugh Roberton (1874 – 1952)
All in the April evening
All in the April ev'ning, April airs were abroad: the sheep with their little lambs pass'd me by on the road. All in the April ev'ning, I thought on the Lamb of God.
The lambs were weary and crying with a weak human cry, I thought on the Lamb of God going meekly to die. Up in the blue, blue mountains, Dewy pastures are sweet, Rest for the little bodies, rest for the little feet. But for the Lamb of God, up on the hilltop green, only a cross, a cross of shame, two stark crosses between.

Francisco Guerrero (1528 – 1599)
Maria Magdalene
Mary Magdalene and the other Mary had bought spices that they might come and anoint him. And very early on the first day of the week, they came unto the sepulchre, at the rising of the sun. Alleluia.

And they entered into the sepulchre and saw a young man sitting on the right side, clothed in a long white garment; and they were affrighted. And he said unto them: Ye seek Jesus of Nazareth, crucified: he is risen; he is not here: behold the place where they laid him. Alleluia.

Spirituals – 1
arr. Norman Luboff (1917 – 1987)
Were you there?
Were you there when they crucified my Lord?
Oh sometimes it causes me to tremble.
Were you there when they laid him in the tomb?
Oh sometimes it makes me want to tremble,
To tremble, my Lord.
arr. Moses Hogan (1957 – 2003)
De blin' man stood on de road an' cried

De blin' man stood on de road an' cried
O my Lord save me.
Crying that he might receib his sight.
Crying what kind am dose shoes you wear?
Dese shoes I wear am de Gospel shoes.
Save me.

Elijah Rock

Elijah rock, Oh, Elijah rock
Come on sister help me to pray, tell me my Lord done pass his way.
Satan ain't nothin' but a snake in the grass. He's a conjur, he's a liar, Hallelujah Lord.
If I could I surely would stand on the rock where Moses stood.
Elijah rock, Oh, Elijah rock,
Hallelujah Jesus,
Comin up Lawdy, comin' up Lord.
Interval
Part 2

Folk songs
Bobby Shaftoe
My bonny lad
Londonderry Air
James Macmillan (b. 1959)
A child's prayer
Welcome Jesu, deep in my soul for ever stay
Welcome joy and love
Love and joy my heart are filling
On this glad communion day.
Gershwin, arr. Steve Zegree
Love walked in

Billy Joel, arr. Chilcott
And so it goes

In ev'ry heart there is a room, a sanctuary safe and strong. To heal the wounds from lovers past, until a new one comes along. I spoke to you in cautious tones: you answered me with no pretence. And still I feel I said too much. My silence is my self defence.
And ev'ry time I held a rose it seems I only felt the thorns. And so it goes, and so it goes, and so will you soon I suppose. But if my silence made you leave, then that would be my worst mistake. So I will share this room with you, and you can have this heart to break ...

Spirituals – 2
arr. Harry Thacker Burleigh (1866 – 1949)
My Lord, what a mornin'
My Lord, what a mornin'
When de stars begin to fall.
Done quit all my worl'ly ways
Jine dat hebbenly ban'.
arr. Moses Hogan
We shall walk through the valley in peace

We shall walk through the valley in peace, for Jesus himself will be our leader.
We will meet our loved ones there,
There will be no trials there.
We shall walk through the valley in peace.

Ezekiel Saw de Wheel

Ezekiel saw de wheel 'way up in de air.
An' de lil' wheel run by faith, oh yes, an' de big wheel run by de grace of God. 'Tis a wheel in a wheel in de middle of de wheel way in de middle of de air.
Oh, some go to church fo' to sing and shout, and defo' six months dey's all turned out.
Let me tell you what a hypocrit' do. He'll talk about me and he'll talk about you.
I'm goin' jine the heav'nly choir when dis worl' is set on fiyer, One o' dese days, 'bout twelve o'clock, dis ole worl' gonna reel and rock.