St Thomas Singers
conductor Donald Halliday
St Giles at Six
St Giles Cathedral, Edinburgh
Sunday 11 July 1999
6.00 pm
PROGRAMME

Charles Villiers Stanford (1852 – 1924)
O for a closer walk with God

Words by William Cowper
Tune from the Scottish Psalter
For four part choir and organ

Oh! For a closer walk with God,
A calm and heavenly frame;
A light to shine upon the road
That leads me to the Lamb!

Return, O holy Dove, return,
Sweet messenger of rest;
I hate the sins that made thee mourn,
And drove thee from my breast.

So shall my walk be close with God,
Calm and serene my frame:
So purer light shall mark the road
That leads me to the Lamb.

Peter Philips (c. 1565 – c. 1628)
Ascendit Deus

For five part choir
Sung in Latin

God has ascended with jubilation, and the Lord with the sound of the trumpet. Alleluia. The Lord has prepared his seat in heaven. Alleluia.

Gesualdo di Venosa (1560 – 1613)
Ave, dulcissima Maria

For five part choir
Sung in Latin

Hail, most gentle Mary, true hope and life, cool fount of refreshment! O Mary, flower among virgins, pray to Jesus for us.

Edward Elgar (1857 – 1934)
Ave verum

For four part choir and organ
Sung in Latin

Jesu, word of God incarnate,
Of the virgin Mary born,
On the cross thy sacred body,
For us men with nails was torn.
Cleanse us by the blood and water
Streaming from thy pierced side;
Feed us with thy body broken,
Now, and in death's agony.

O compassionate, divine and gentle Jesu, hear us, son of Mary.

Paul Patterson (b. 1947)
Salvum fac populum tuum Domine

For four part choir, unaccompanied
Sung in Latin

Lord, save thy people and bless thine inheritance and guide them and exalt them for ever. From day to day we bless you and praise your name from generation to generation.

Kenneth Leighton (1929 – 1989)
Solus ad Victimam

For four part choir and organ
Words by Peter Abelard (1079 – 1142), translated by Helen Waddell

Alone to sacrifice thou goest, Lord,
Giving thyself to death whom thou hast slain.
For us thy wretched folk is any word?
Who know that for our sins this is thy pain?

For they are ours, O Lord, our deeds,
Why must thou suffer torture for our sin?
Let our hearts suffer in thy Passion, Lord,
That very suffering may thy mercy win.

This is the night of tears, the three days space,
Sorrow abiding of the eventide,
Until the day break with the risen Christ,
And hearts that sorrowed shall be satisfied.

So may our hearts share in thine anguish, Lord,
That they may sharers of thy glory be;
Heavy with weeping may the three days pass,
To win the laughter of thine Easter day.

Henryk Górecki (b. 1933)
Euntes ibant et flebant

For unaccompanied choir in 3 to 12 parts
Sung in Latin

He that goeth forth and weepeth, bearing precious seed, shall doubtless come again with rejoicing, bringing his sheaves with him.
(Psalm 125, v. 6)
O come let us worship and bow down: let us kneel before the Lord our Maker.
(Psalm 94, v. 6)

John Tavener (b. 1944)
Angels

For nine part choir and organ
Words by Keith Walker, 1985

Bright beings from the realms of light,
Messengers from the Lord of Might!
Silent as dawn and swift as sound,
Your presence shines where God is found.

When Jacob lay in deep despair,
Angelic waves in vision fair
Disclosed at Bethel, Heaven's gate,
And broke his chain of evil fate.

Angel and maid in stillness met,
And Mary's 'Yes', lest we forget,
Sprang from a Spirit touched by grace,
Through Gabriel's word and golden face.

Unseen as air, in fiery power,
Angelic hordes make demons cower,
And won with Christ in holy fight
Salvation's gift from human plight.

The sun's bright beams bring light to earth,
And Angels bless our pain and mirth,
May angel hosts transport us high
To God in heaven when we die.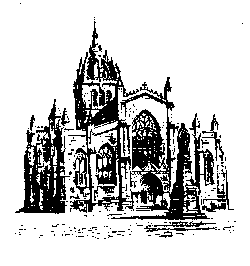 St Giles Cathedral, Edinburgh